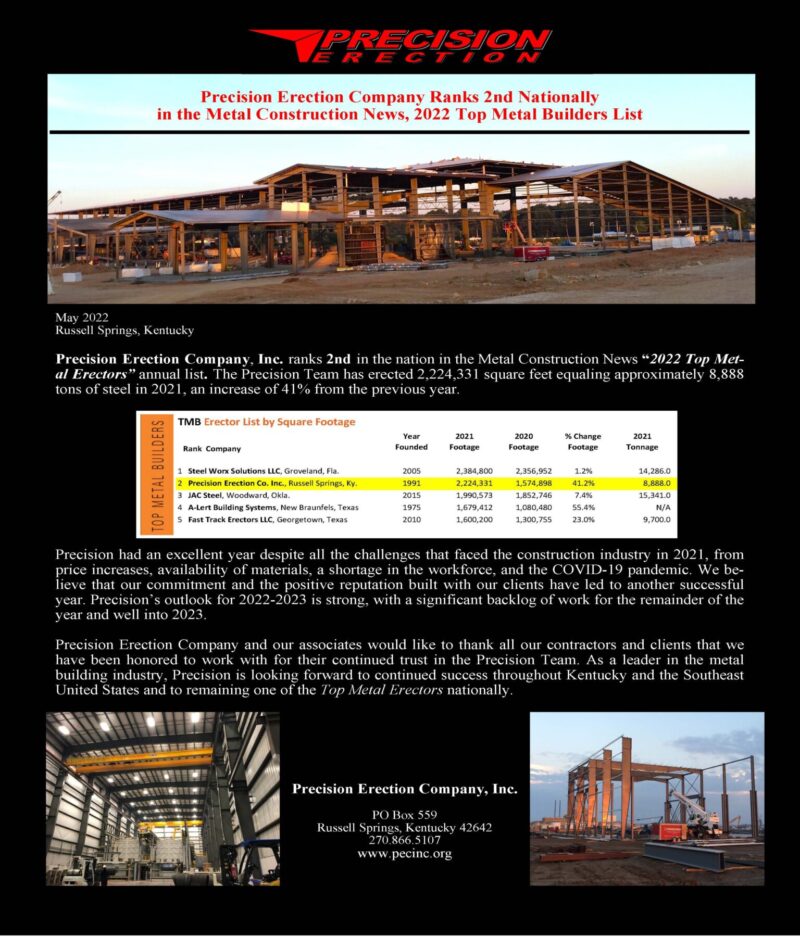 Precision Erection Company Ranks 2nd Nationally in the Metal Construction News, 2022 Top Metal Builders List

Precision Erection Company, Inc. ranks 2nd in the nation in the Metal Construction News "2022 Top Metal Erectors" annual list. The Precision Team has erected 2,224,331 square feet equaling approximately 8,888 tons of steel in 2021, an increase of 41% from the previous year.
Precision had an excellent year despite all the challenges that faced the construction industry in 2021, from price increases, availability of materials, a shortage in the workforce, and the COVID-19 pandemic. We believe that our commitment and the positive reputation built with our clients have led to another successful year. Precision's outlook for 2022-2023 is strong, with a significant backlog of work for the remainder of the year and well into 2023.
Precision Erection Company and our associates would like to thank all our contractors and clients that we have been honored to work with for their continued trust in the Precision Team. As a leader in the metal building industry, Precision is looking forward to continued success throughout Kentucky and the Southeast United States and remaining one of the Top Metal Erectors nationally.